Want to know more?
Read Our Editorial Policy
Did you find this information helpful?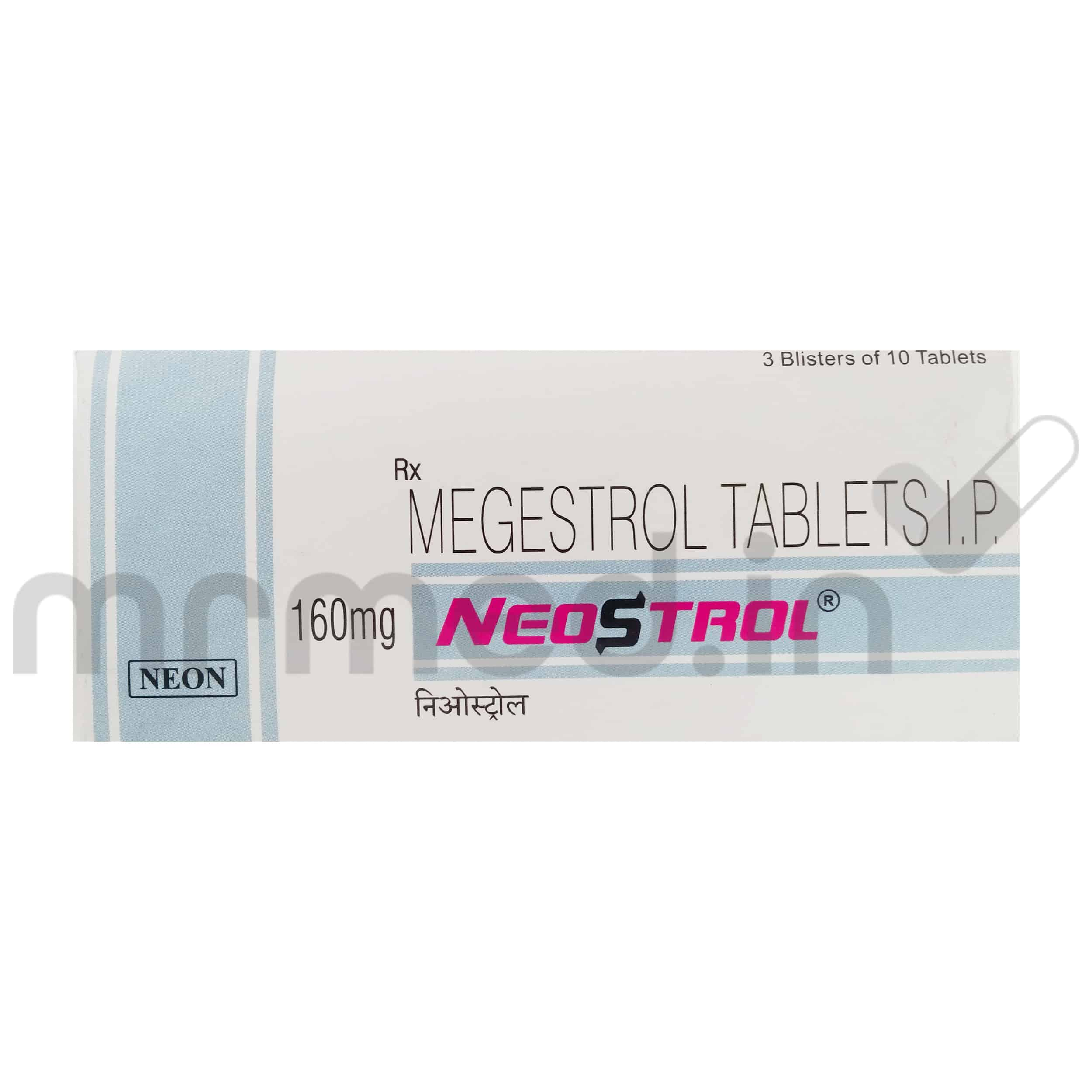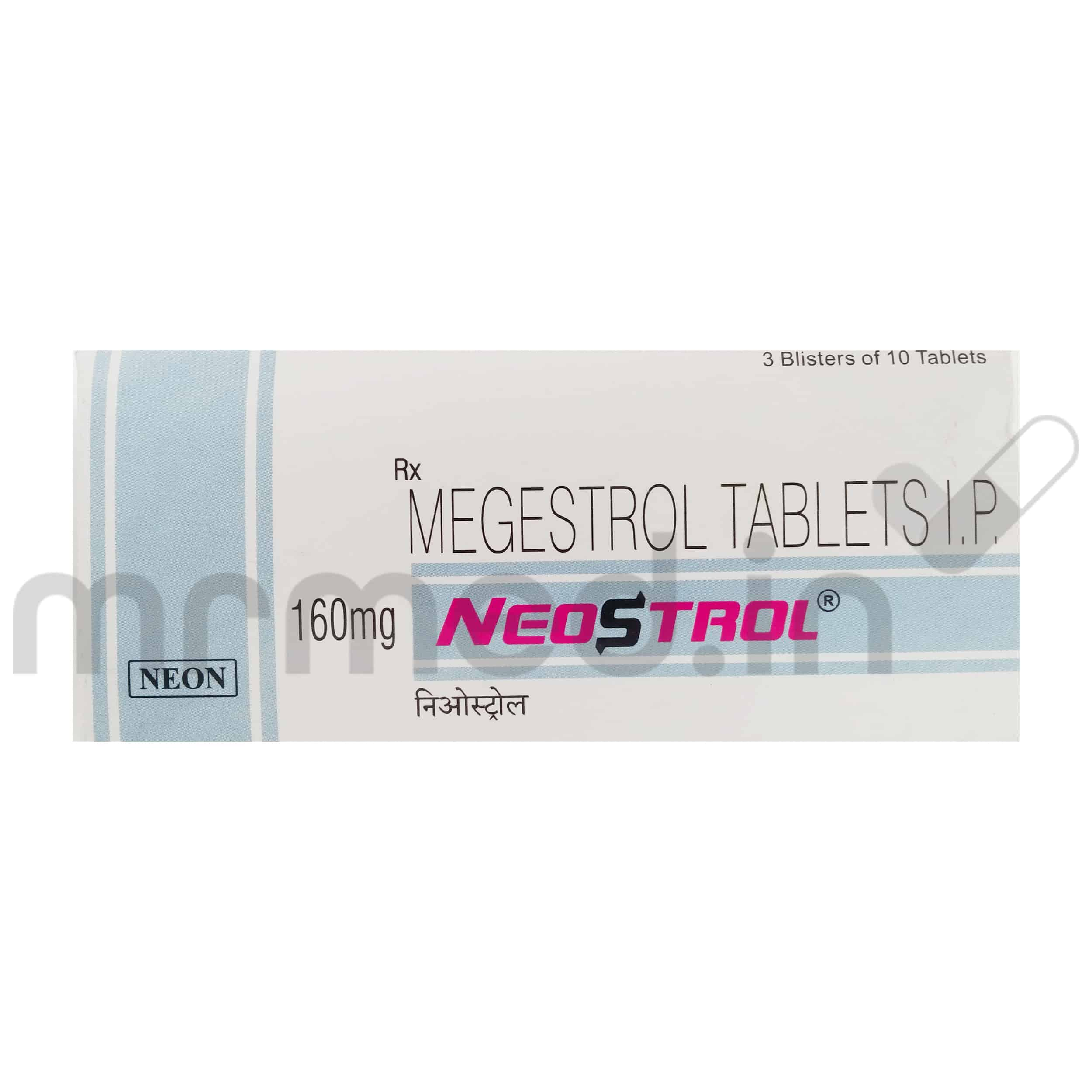 Neostrol 160mg Tablet
Prescription Required
Salt Composition : Megestrol
Manufacturer : NEON LABORATORIES LTD
Origin of Medicine : India
10 Tablet(s) In A Strip
---
Introduction to Neostrol 160mg Tablet
Neostrol 160mg Tablet contains the active substance Megestrol. It belongs to a category of medications called progestogens and is used to treat certain hormone-dependent cancers, namely breast cancer. It is a synthetic form of the naturally occurring progesterone hormone. It is also indicated to treat unexplained weight loss, cachexia (weakness) and anorexia (loss of appetite) in patients with weak immune systems and cancer.
Progestogens are used in patients whose disease has progressed with conventional anti-estrogen therapy. Your physician will assess the estrogen status (ER) to ensure that your breast cancer is due to the expression of the estrogen receptor.
---
Uses of Neostrol 160mg Tablet
Treatment of hormone-dependent cancer (endometrial cancer, breast cancer)
Treatment of anorexia, cachexia or unexplained weight loss
---
Therapeutic Effects of Neostrol 160mg Tablet
Neostrol 160mg Tablet exhibits anticancer properties by interacting with steroidal receptors. It suppresses steroid production by the adrenal glands and androgen secretion by the ovaries in postmenopausal women. It also prevents the breakdown of cytokines and stimulates appetite in chronic disease-induced anorexia and cachexia.
---
Interaction of Neostrol 160mg Tablet with other drugs
Inform your doctor about any prescribed medicines, over-the-counter medications, nutritional and vitamin supplements and herbal products you are taking or have taken before the treatment. Certain medications may interact with the efficacy of Neostrol160 mg tablet. 
---
More Information about Neostrol 160mg Tablet
Store below 25°C, protected from light and moisture. 
---
How to consume Neostrol 160mg Tablet
Swallow the tablet whole with water. Your physician will decide the ideal dose for you, depending on your condition. 
---
Safety Advices for Neostrol 160mg Tablet
Pregnancy
This medicine is unsafe to consume during pregnancy. Inform your physician before starting this treatment if you are pregnant or think you might be pregnant.
Breast Feeding
Consult your physician before taking this tablet if you are a breastfeeding mother.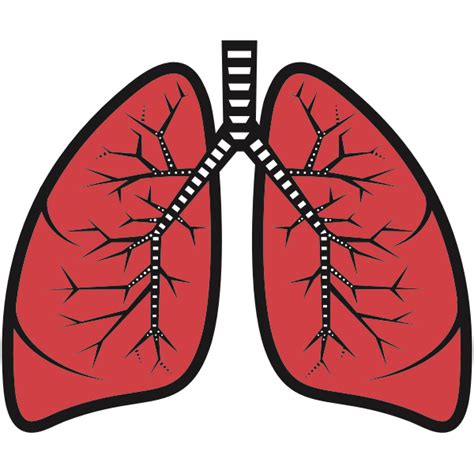 Lungs
Inform your physician if you have any lung diseases before taking Neostrol 160 mg tablet.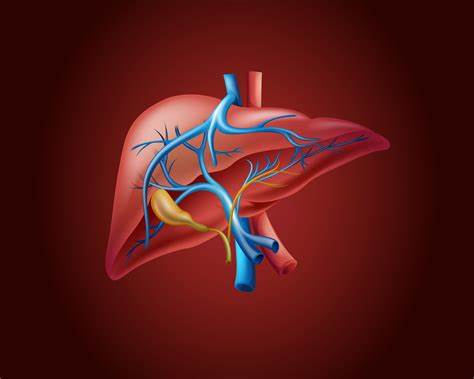 Liver
Inform your physician before starting this treatment if you have liver problems. Your physician will monitor your liver functions regularly. 
Alcohol
It is not known whether it is safe to consume alcohol with Neostrol160 mg Tablet. Please consult your doctor.
Driving
Avoid driving or using machinery if you experience side effects. 
---
Side Effects of Neostrol 160mg Tablet
Side effects are unwanted symptoms caused by medicines. Even though all drugs cause side effects, not everyone gets them.
Serious:
Swelling of the face, lips, tongue
Skin rash
Breathing difficulty
Blood clot in the lungs
Heart problems
 Common:
Weight gain and increased appetite
Hot flushes
High BP
High blood sugar levels
Rounded face
Constipation
Swelling of vein
Mood changes
Hair loss
Diarrhea
Tiredness and weakness
Impotence
Passing wind
Frequent urination
Nausea, vomiting
Fluid accumulation
Pain
---
Word of Advice
Inform the doctor if the patient has any history of kidney, liver, or allergic reactions before starting this medication. Kidneys, liver, blood pressure, and blood glucose levels should be monitored while taking this medication. Avoid taking this medication while planning for pregnancy or during pregnancy as it causes harmful effects on developing babies. This medication should not be stopped without proper advice from the doctor because it can worsen the situation. Inform the doctor immediately if any sign of swelling and pain in the limbs, shortness of breath, chest pain, severe headache, or changes in vision.
---
FAQs
Q 1. Does Neostrol 160mg Tablet cause weight gain?
Yes, it is a common side effect which is caused due to an increase in appetite. It leads to an increase in fat and body mass. If there is excessive weight gain patients are advised to consult the doctor.
Q 2. Is Neostrol 160mg Tablet safe to use during pregnancy?
No, it is unsafe to use this medication during pregnancy because it causes harmful effects on the developing baby. Patients are asked to avoid this medication if they are planning for pregnancy or during pregnancy.
Q 3. Does Neostrol 160mg Tablet stop periods?
No, it doesn't stop periods and it can cause excessive bleeding. consult the doctor if there is any excessive bleeding.
Q 4. What are the side effects of Neostrol 160mg Tablet?
The common side effects of Neostrol 160 mg Tablet are weight gain, increase in appetite, high blood pressure, constipation, rounded face, mood changes, hair loss, tiredness and weakness, nausea, vomiting, swelling of the vein.
Q 5. How should I take Neostrol 160 mg Tablet ?
Neostrol 160 mg Tablet should be taken as prescribed by the doctor and it can be taken with or without food, preferably at the same time daily. It is important to take this medicine even when the patient is feeling well and don't stop this medication without the proper advice of the doctor as it will worsen the condition.
Q 6. Can I drive after taking Neostrol 160 mg Tablet?
It is unsafe to use this medication while driving as it causes dizziness and patients may lack concentration and alertness.
---
Fact Box of Neostrol 160mg Tablet
Molecule name: Megestrol

Therapeutic class: Progestins 

Pharmacological class: Anti-Neoplastics

Indications: 

1. Treatment of hormone-dependent cancer (endometrial cancer, breast cancer)

2. Treatment of anorexia, cachexia or unexplained weight loss
---
References
Bausch and Lomb UK Ltd., Electronic Medicines Compendium (EMC), [Revised on Sep 2020] [Accessed on 17th Jul 2021], https://www.medicines.org.uk/emc/files/pil.11135.pdf
alniche Life Sciences Pvt Ltd., [Revised on 2021] [Accessed on 19th Jul 2021], https://www.alniche.com/product/megahenz/
Bines et al., Activity of megestrol acetate in postmenopausal women with advanced breast cancer after nonsteroidal aromatase inhibitor failure: a phase II trial, Annals of Oncology, 2014, 25(4), 831-836, https://www.annalsofoncology.org/action/showPdf?pii=S0923-7534%2819%2936501-9
G.G. Dark, A.R. Abdul Razak, Oncology, Davidson's Principles and Practice of Medicine, 22nd Edition, 2014, 259-282.
---
Disclaimer
MrMed's primary intention is to ensure that its consumers get information that is reviewed by experts, accurate and trustworthy. The information and contents of this website are for informational purposes only. They are not intended to be a substitute for professional medical advice, diagnosis, or treatment. Please seek the advice of your doctor and discuss all your queries related to any disease or medicine. Do not disregard professional medical advice or delay in seeking it because of something you have read on MrMed. Our mission is to support, not replace, the doctor-patient relationship.
4000+ products
We maintain strict quality controls on all our partner retailers, so that you always get standard quality products.
Secure Payment
100% secure and trusted payment protection
Easy Return
We have a new and dynamic return window policy for medicines and healthcare items. Refer FAQs section for more details.