Want to know more?
Read Our Editorial Policy
Did you find this information helpful?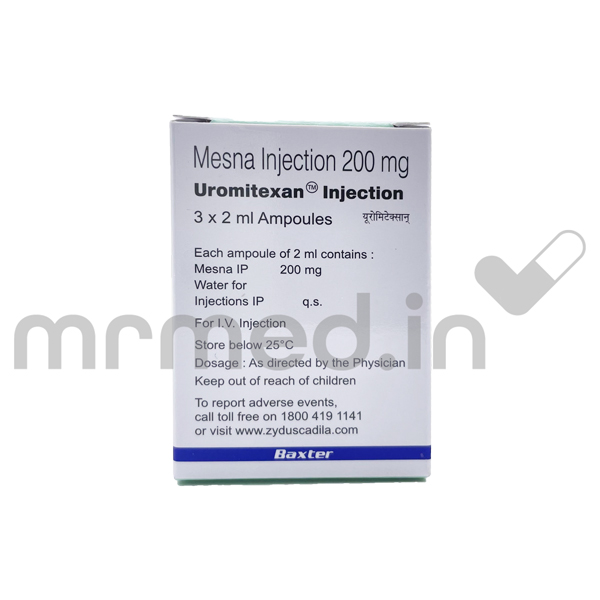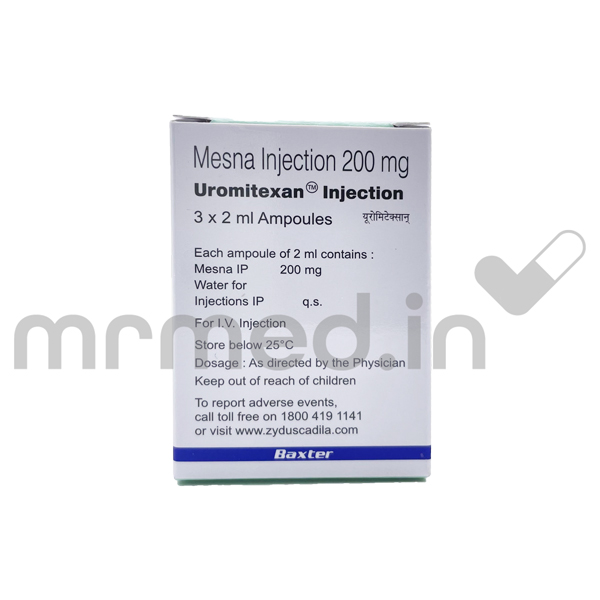 UROMITEXAN 200MG INJECTION
Prescription Required
Salt Composition : Mesna
Manufacturer : ZYDUS CADILA
Origin of Medicine : India
1 Ampoule(s) Of 2ml
---
Introduction to Uromitexan 200mg Injection
Uromitexan 200mg injection contains the active substance Mesna. It is a cytoprotective drug that belongs to the class of hemorrhagic cystitis inhibitors. This medicine reduces the risk of hemorrhagic cystitis (a condition that causes bladder inflammation and can result in serious bleeding) in people who receive ifosfamide (a medication used for treating cancer). It protects against some of the harmful effects of certain chemotherapy medications.  
Do not take this injection if you are allergic to Uromitexan 200mg injection or any other ingredients of this medicine. This medicine can cause serious allergic reactions and skin reactions. Inform your doctor if you face any symptoms of fever, swelling of your face, lips, mouth, or tongue, trouble breathing or wheezing, itching, burning, skin rash or hives, skin redness, or swelling after taking this medicine.  
Notify your physician if you are pregnant or breastfeeding or have severe liver and bladder problems. Female patients should use effective contraception during the treatment with Uromitexan 200mg injection in combination with other anticancer medication and for 6 months after the last dose. The most common side effects are nausea, vomiting, constipation, decreased platelets and WBC levels, tiredness, fever, abdominal pain, headache, hair loss, and difficulty sleeping.
---
Uses of Uromitexan 200mg Injection
Therapeutic Effects of Uromitexan 200mg Injection
Uromitexan 200mg injection reduces ifosfamide (cancer medication) induced hemorrhagic cystitis by binding to certain metabolites, inhibiting their toxic effects on the bladder. 
---
Interaction of Uromitexan 200mg Injection with other drugs
Inform your healthcare provider about all the medicines you take, including prescription medications, over-the-counter medications, recent vaccinations, nutritional and vitamin supplements, and herbal products. Certain medications may interact with Uromitexan 200mg injection and reduce their effectiveness by causing undesirable side effects.
---
More Information about Uromitexan 200mg Injection
Store Uromitexan 200mg injection in the refrigerator (20°C to 25°C)
Do not freeze
keep the injection away from the reach of children and pets.
If you have missed any dosing appointments, inform your doctor and schedule immediately.
---
How to consume Uromitexan 200mg Injection
It should only be administered by a trained doctor or nurse experienced in administering chemotherapy. The medicine will be given as an infusion into a vein. Do not self-administer the injection. Your doctor will decide the dose and duration of the treatment based on your disease severity and other factors. 
---
Safety Advices for Uromitexan 200mg Injection
Pregnancy
There are limited human studies on the safety of Uromitexan 200mg injection during pregnancy. Consult your doctor if you are pregnant, suspecting, or planning for pregnancy. 
Breast Feeding
Breastfeeding is not recommended in patients taking Uromitexan 200mg injection because the medicine secrete into the breast milk in small amounts and may harm your baby.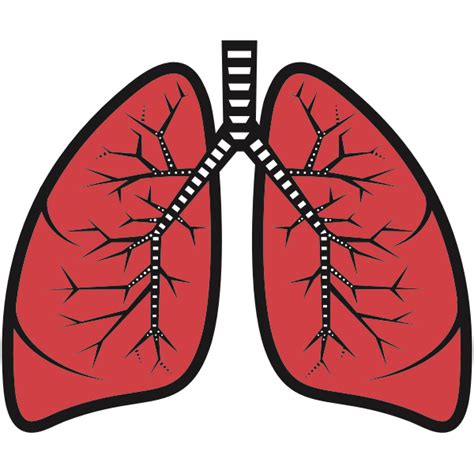 Lungs
It is unknown whether Uromitexan 200mg injection can be used in patients with lung disorders. Consult your doctor if you have any lung diseases before starting the treatment.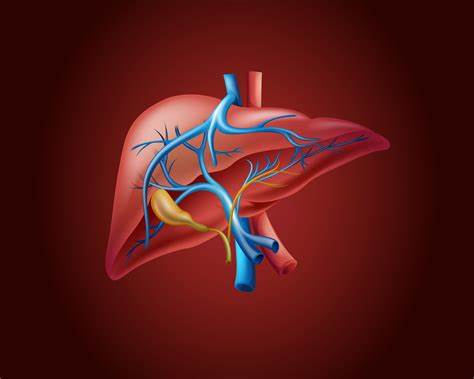 Liver
Uromitexan 200mg injection should be cautiously administered in patients with severe liver diseases. Dose adjustments are necessary. Inform your physician if you have liver problems before initiating the therapy.  
Alcohol
It is unknown whether consuming alcohol will affect the effectiveness of Uromitexan 200mg injection. Consult your doctor for more advice. 
Driving
Uromitexan 200mg injection affects the ability to drive or operate heavy machines. It is unsafe to drive or operate heavy machinery. 
---
Side Effects of Uromitexan 200mg Injection
Side effects are unwanted symptoms caused by medicines. Even though all drugs cause side effects, not everyone gets them. 
Common 
Chest pain
Swelling in the face, feet, and hands
Hair loss
Excessive sweating
Decreased potassium levels
Abdominal pain
Constipation
Diarrhea, loss of appetite
Nausea, vomiting
Anemia
Changes in the blood count levels
Backache
Confusion, dizziness, headache
Fever, tiredness 
Serious 
Rash
Hypersensitivity reactions
---
Word of Advice
Drink more fluids so you will urinate more often and help prevent kidney problems. Drink 1 to 2 liters of fluid each day. Male patients with female partners should use an effective form of birth control during treatment and for 3 months after the last dose. Do not breastfeed during the treatment with this medicine and for 1 week after the last dose. Your physician may take regular lab tests to check for the effectiveness of the therapy and monitor you for any unwanted effects of the medicine. 
---
FAQs
Q 1. What if Uromitexan 200mg injection does not work for me?
There are alternative medicines that may work for you based on your disease condition and other factors. Your doctor will decide the alternative treatment that works best for you.
Q 2. Is there any special diet that I should follow while taking Uromitexan 200mg injection?
There are no special restrictions on the diet. If your doctor or any other healthcare professional tells you to avoid certain food, then avoid it. Diet restrictions may vary from patient to patient. Consult your doctor for more advice.
Q 3. Why is Uromitexan 200mg injection contraindicated in neonates, premature and low-birth-weight babies?
The preservative benzyl alcohol added in the Uromitexan 200mg injection has been associated with serious adverse reactions and death in neonates and premature infants. Consult your doctor for more information.
Q 4. Can old-age patients take Uromitexan 200mg injection?
Dose selection should be cautiously made in older age people receiving Uromitexan 200mg injection. Your physician will decide the dose and duration of the therapy.
Q 5. What are the precautions I should follow while receiving Uromitexan 200mg injection?
Drink 1 to 2 liters of fluid each day during the therapy with Uromitexan 200mg injection. Inform your physician of any symptoms of bleeding or skin reactions.
---
Fact Box of Uromitexan 200mg Injection
| | |
| --- | --- |
| Molecule name: Mesna | Therapeutic class: Cytoprotectants |
| Pharmacological class: Hemorrhagic cystitis inhibitor  | Indications: Prevent hemorrhagic cystitis |
---
Disclaimer
MrMed's primary intention is to ensure that its consumers get information that is reviewed by experts, accurate and trustworthy. The information and contents of this website are for informational purposes only. They are not intended to be a substitute for professional medical advice, diagnosis, or treatment. Please seek the advice of your doctor and discuss all your queries related to any disease or medicine. Do not disregard professional medical advice or delay in seeking it because of something you have read on MrMed. Our mission is to support, not replace, the doctor-patient relationship.
4000+ products
We maintain strict quality controls on all our partner retailers, so that you always get standard quality products.
Secure Payment
100% secure and trusted payment protection
Easy Return
We have a new and dynamic return window policy for medicines and healthcare items. Refer FAQs section for more details.