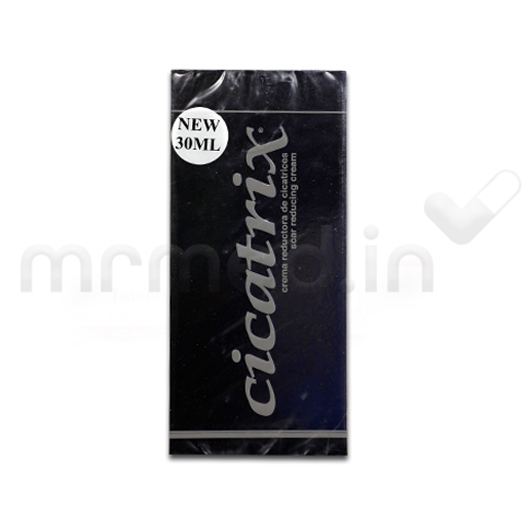 CICATRIX 15ML CREAM
Salt Composition :
CENTELLA ASIATICA,METHYLPOLYSILOXANE,PINUS SYLVESTRIS
Manufacturer : KSHIPRA HEALTH SOLUTIONS LLP
Origin of Medicine : India
Introduction:
Cicatrix 15ml Cream is commonly referred to as Gotu kola, Asiatic pennywort, Indian pennywort, Indian water navelwort, wild violet, and tiger herb. It is a tropically growing medicinal plant that has been utilized in Ayurvedic and Chinese traditional medicines. It helps in the disappearance of lesions and scars and tones down its colour to match the natural skin colour. It is very effective in treating post-operative skin burns.

Uses of Cicatrix 15ml Cream:
Treatment of second-degree burns and post-operative scars.

Wound healing

Treatment of bacterial, fungal and viral infections and related inflammations.

Treatment of psoriasis and ulcers.

Treatment of photoaging skin and cellulite

How Cicatrix 15ml Cream Works:
Cicatrix 15ml Cream stimulates the fibroblasts responsible for the regeneration of skin and connective tissues. It undergoes a molecular activation process to enable the fibroblasts, produces collagen, regulates the homeostasis of the skin layer and manages the chronic inflammation in the scar tissue. It also inhibits the inflammatory phase of scars and improves the strength of the newly formed skin.
Interaction with other drugs:
Inform your doctor about any medications you are taking or have taken before the treatment.
More Information:
Keep the cream out of sight and reach of children.
References:
E.M. Romo, F.P. Fundora, C.R. Albajes, et al., The effectiveness of cream with Centella Asiatica and Pinus Sylvestris to treat scars and burns. Clinical trial, Dermatologia Kliniczna 2012, 14 (2): 105-110 [Accessed on 5th Apr 2021],

http://www.batmarketing.cz/cicatrix/documents/Kuba.pdf

Ilkay Erdogan Orhan, Centella asiatica(L.) Urban: From Traditional Medicine toModern Medicine with Neuroprotective Potential, Evidence-Based Complementary and Alternative Medicine, 2012 [Accessed on 5th Apr 2021],

https://www.researchgate.net/publication/225187189_Centella_asiatica_L_Urban_From_Traditional_Medicine_to_Modern_Medicine_with_Neuroprotective_Potential

Wiesława Bylka et al., Centella asiatica in cosmetology, Advances in Dermatology and Allergology, [20th Feb 2013] [Accessed on 5th Apr 2021],

https://www.ncbi.nlm.nih.gov/pmc/articles/PMC3834700/
How to use Cicatrix 15ml Cream:
Cleanse and dry the affected area. Apply and massage the cream on the affected area.
Safety Advice:
Pregnancy:
It is not known whether Cicatrix 15ml Cream causes harm to the fetus. Consult your physician for advice.

Breastfeeding:
It is unknown whether Cicatrix 15ml Cream affects breast milk. Consult your physician for advice.

Allergies:
Inform your physician if you are experiencing skin reactions like allergies and rashes.
Side effects are unwanted symptoms caused by medicines. Even though all drugs cause side effects, not everyone gets them.
Serious:
Skin irritation and contact dermatitis
Common:
MrMed's primary intention is to ensure that its consumers get information that is reviewed by experts, accurate and trustworthy. The information and contents of this website are for informational purposes only. They are not intended to be a substitute for professional medical advice, diagnosis, or treatment. Please seek the advice of your doctor and discuss all your queries related to any disease or medicine. Do not disregard professional medical advice or delay in seeking it because of something you have read on MrMed. Our mission is to support, not replace, the doctor-patient relationship.